2013年上海根与芽在三块造林地开展第二个百万植树计划。其中有两块是与通辽市林业局合作,在通辽市科尔沁区莫力庙开展造林,林地编号为2013-2、2012-3,位于通辽市西45公里。另一块是与通辽市科尔沁左翼后旗巴嘎塔拉苏木召根苏莫嘎查农户合作,林地编号为2013-1,位于通辽市南60公里。
Shanghai Roots and Shoots' Million Tree Project started the second million-tree goal this year on three separate plots. Two of the sites, 2013-2 and 2013-3, are in cooperation with the Tongliao Forestry Bureau and are located in Molimiao, Keerqin District, 45km west of Tongliao County. The third forest plot, 2013-1, has been contracted from local farmers in Zhaogensumo Gacha (means "village" in Mongolian), Bagatala Sumu (means "town"), Keerqin Left Back Banner (a.k.a. Kezuohou Qi) which is 60km to the south of Tongliao.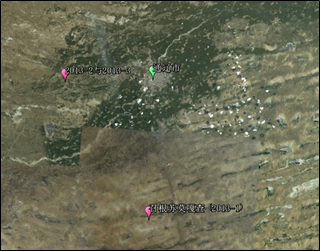 图1 2013年林地位置分布 Picture 1: Location of 2013's three planting sites
2013-1林地内能看到明沙,位于召根苏莫嘎查南侧漫长沙荒地中,虽然地下水位很浅,但是由于没有很好的防风措施、地表植被稀少、生态较脆弱,也对当地农户的放牧场和农田造成了直接的风沙侵蚀威胁。所以基于现实条件,选择了生长快、抗逆性强的杨树作为先锋树种,以改善小区域的生态环境。截止4月26日,当地农户也基本完成了共计963.4亩的林地种植,为了进一步保护已栽树苗,目前正在进行围栏的建设。
Plot 2013-1 lies in the wild sandy lands, south of Zhaogensumo Gacha. Due to the lack of wind-breaking structures here, the ecosystem is vulnerable: vegetation is scarce, and grazing and farming are threatened by soil erosion, even though the water table is high. Accordingly, poplars have been selected as the tree species to improve the region's environment for their rapid growth rate and good stress resistance. Local farmers have now planted a total forest of 963.4 Mu (64.2 hectares), and are working on constructing a fence to protect the trees.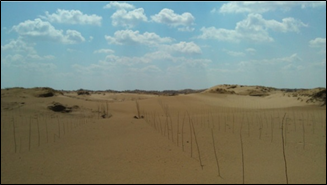 2013-2和2013-3林地位于气候条件稍好的科尔沁区莫力庙,主要的造林任务则是由莫力庙国有林场承办。
经过对实地的考察和听取当地林场经验,在多样化原则上,在这两块造林地上加入了文冠果、五角枫、油松这三种树种的栽植。结合我们已经栽植过的樟子松,完成整个两块林地的造林。
Plots 2013-2 and 2013-3 have been planted and secured with the help of the Tree Plantation in Molimiao, and enjoy a relatively better environment. Based on research investigation and local experience, trees, maple trees, Chinese pines and Scots pine trees are the selected species planted this year to enhance the biodiversity of the forests.
2013-2隶属当地农户,面积较小,树种上较多样化,采用五角枫、油松、樟子松混交的方式,已于5月14日完成了共计330亩的造林计划。在5月18日的观察中,已经可以看到五角枫的萌发,而两种松树的生长情况也良好。
Plot 2013-2 is small and is owned by local farmer, but is diverse in vegetation species. As of May 14th, an area of 330 Mu (22 hectares) has been completely planted with a combination of maple trees, Chinese pine trees and Scots pine trees. According to the forest inspections on May 18th, the maple trees have sprouted and the two species of pine are in good condition!

2013-3是今年最大的造林地,由于地块面积大,所以造林的方式为用杨树在林地边界构建防护林带,主要造林的树种则采用本土且具有能源价值的文冠果以及樟子松。这块林地也是本次4月份志愿者植树的林地,从4月12日至26日就由志愿者栽植了4748棵文冠果和樟子松。
2013-3 is the largest plot this year. We have planted poplar trees around the boundaries of the forest area that will act as a protective barrier. Yellowhorn trees, which are local and valuable for the oil they yield, and Scots pine trees are the main species here. 2013-3 was also the site of our tree-planting trip this year, where our volunteers planted 4,748 yellowhorn and Scots pine trees from April 12th-26th.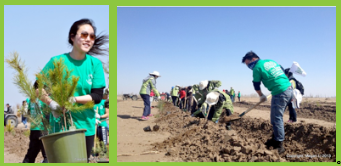 图4志愿者运送樟子松苗(4月21日摄) 图5 志愿者在挖树坑 (4月21日摄)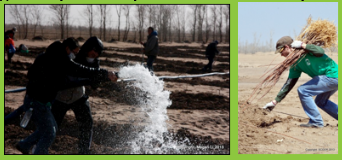 图6 志愿者移动浇水的水管(4月14日摄) 图7志愿者分配文冠果苗(4月21日摄)
截至5月18日,该林地已经完成了防护林带的栽植,由于该林地的地下温度依旧偏低,滴灌管设施未完全调试安装好,所以预计文冠果和樟子松的集中造林将于5月底6月初开始。有关林地的栽植面积及其他数据也会在造林结束后开始收集。
After inspection, the trees planted by our volunteers have met our expectations; most of the yellowhorns have survived, and the survival rate of the pine trees is above 85%. As of May 18th, the protective poplar tree boundary has been completed, but the underground temperature is still too low for setting up the drip irrigation pipe. The remaining yellowhorn and Scots pine trees are expected to be planted at the end of May or early June, and relevant data will be collected following their completion.
同时在5月18日的实地观察中,志愿者栽植的文冠果几乎全部成活,樟子松成活率在85%以上,已经达到我们预期的指标。
在此也对志愿者们表示感谢,谢谢你们的认真和努力!
同时也感谢未能成行的朋友,谢谢你们的关注和支持!
We would like to express our sincere appreciation and gratitude to the hardworking volunteers who joined our trip as well as the ones who were not able to come: thank-you for all your concern, support, and hard work!

林道旁杨树防护林带; 发芽的文冠果
The protective boundary of poplar trees ; Yellowhorn sprouts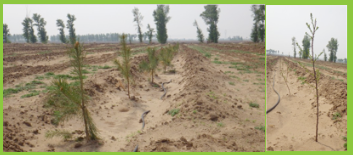 樟子松树行;文冠果树行
Scots pine trees site ; Yellowhorn site