林地概况 Forest Basic Information
截至2019年底,MTP项目于内蒙古通辽市共栽植37块林地,绿化面积达34022.15亩(约22.68平方公里),栽植各树种共计2428012棵。其中,2019年新增一块林地,即2019-1,林地面积为1709亩。
To date, MTP has successfully planted 2,428,012 trees on 37 forest plots, covering an area of 34,022.15 Mu (nearly 22.68 km2) in Inner Mongolia. In 2019, MTP has planted one plot of sandy land with the total area of 1709 Mu, namely 2019-1. More details could be seen in the graph below. (1 Ha=15 Mu)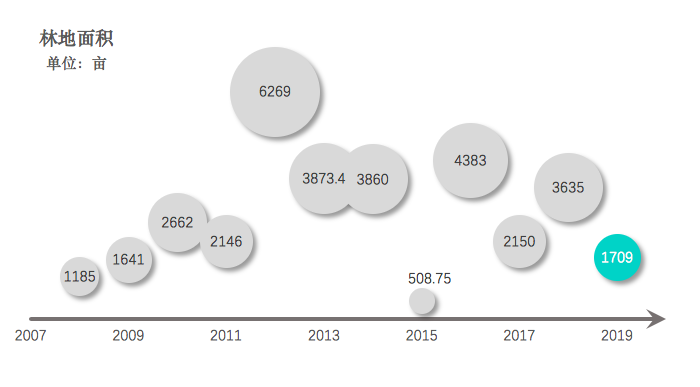 截至2019年底,栽植树种共8种。分别为:杂交杨树(通林5,哲林4,白城杨,小黑杨等)1年和2年生裸根苗;文冠果播种苗;五角枫播种苗;樟子松3年生容器苗;榆树2年生苗;柠条(1年生容器苗),柳树2年生苗,黄菠萝2年生苗。
To date, we've planted eight different species in MTP forests, including one to two years old hybrid poplar, yellow horn, maple (Acer Mono), 3-year-old pine (container seedlings), 2-year-old elm, one-year Caragana Microphylla (container seedlings), 2-year-old willow, and 2-year-old Phellodendron amurense.
其具体数据如下:杨树1326708株、文冠果72483株、樟子松957379株、五角枫59617株,柳树11825株。需要说明的是,柠条的成活率较低,无法统计出数据。黄菠萝的数量非常少,且分布零散,无法统计。榆树与杨树混交,无法精确区分统计,由于性状类似,故放到一起统计。
Details of each planted species are as follows: 1,326,708 hybrid poplars, 72,483 yellow horns, 957,379 pines, 59,617 maples (Acer Monoes) and 11,825 willows. Please note that the survival rate of Caragana Microphylla is too low to record statistics. As the amount of Phellodendron amurense is rather small, and they are very sparse over the sites, we didn't record the statistics either. Also, since the elms and poplars are mixed together, and shared similarities in characters, we categorized both of them as poplars to count.
The proportion of different species is shown in the graph below: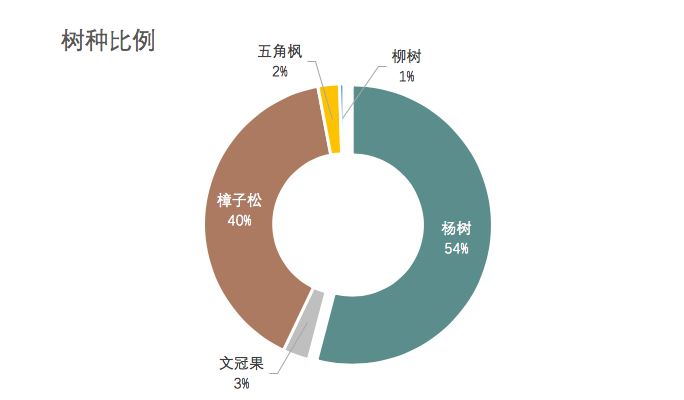 经调查测量,2019年度全林地保存率均值为69.5%
Based on our data and measurement, the overall survival rate of all MTP forests in 2019 is 69.5%.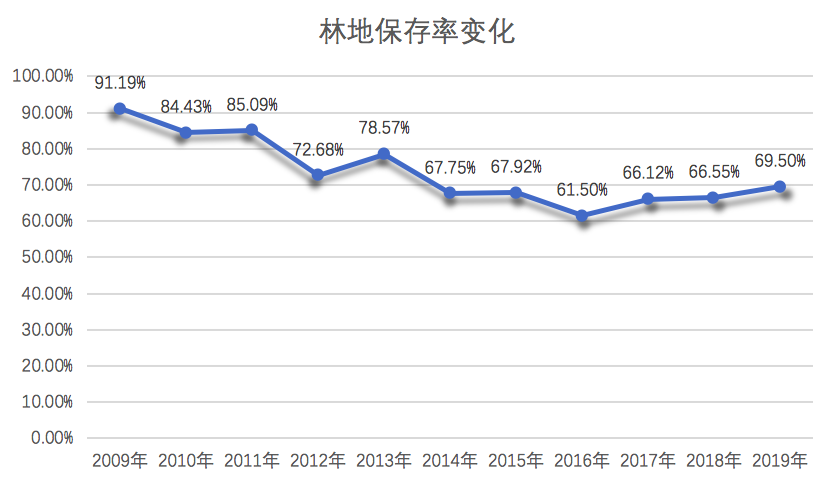 从2009到2019年,林地整体的保存率在缓慢下降,从2014年度开始,林地的保存率基本维持在70%左右。从下图看,除2014和2015年林地外,其它各林地的成活率均高于60%。
The overall survival rate is slowly going down from 2009 to 2019. The forest survival rate is maintaining in about 70%. Through the graph below, except plots 2014 and 2015, all other plots' survival rate are above 60%
The graph below shows the survival rates of all planting sites in 2019: