截至2017年,MTP项目于内蒙古通辽市共栽植34块林地,绿化面积达28678.15亩(约19.12平方公里),栽植各树种共计2134092棵。
Till now, MTP has successfully planted 2,134,092 trees on 34 forest plots, covering an area of 28,678.15 Mu (nearly 19.12 km2) in Inner Mongolia.
整体上看,造林面积在2016年有较大的增长,主要原因:与甘旗卡林业局达成合作,发现面积较大的适宜乔木造林区域。其中,2017年造林2150亩一块林地。历年的面积变化如下图:
The area of forests increased dramatically in 2016 due to the cooperation with Ganqika Forestry Bureau, who helped us with finding plenty of suitable land to plant trees to fight desertification, to be specific, about 4,383 Mu(292.2 Ha) in 2016, and 2,150 Mu(143.3 Ha) in 2017. More details could be seen in the graph below. (1 Ha=15 Mu)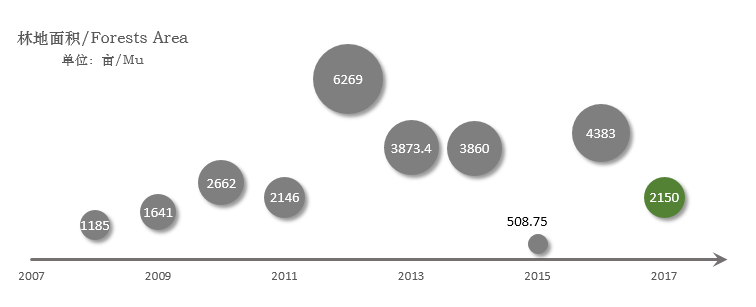 至2017年内蒙古项目栽植树种已达8种,分别为:杂交杨树(通林5号杨,哲林4号杨,白城杨,小黑杨等)1年和2年生裸根苗;樟子松3年生容器苗;文冠果播种苗;五角枫播种苗;榆树2年生苗;柠条(1年生容器苗),柳树2年生裸根苗,黄波椤2年生裸根苗。其具体数据如下:
We've planted eight different species in MTP forests, including one to two years old hybrid poplar, 3-year-old pine (container seedlings), yellow horn, maple (Acer Mono), one-year Caragana Microphylla (container seedlings), 2-year-old willow and elm, and 2-year-old Phellodendron amurense.
杨树1296708株(已去除3万棵杨树构成的防护林带)、樟子松663459株、文冠果72483株、五角枫59617株,柳树与榆树11825株。(需要说明的是:柠条的成活率较低,无法统计出数据;黄波椤的数量非常少,且分布零散,在此不做统计。)各树种比例如下图:
1,296,708 hybrid poplars (the windbreak of 30,000 poplars has been deducted), 663,459 pines, 72,483 yellow horns, 59,617 maple(Acer Mono), 11,825 willows and elms. (Please note that the survival rate of Caragana Microphylla is too low to count, and as the number of Phellodendron amurense is minor we didn't count it either.) The proportion of different species is shown in the graph below: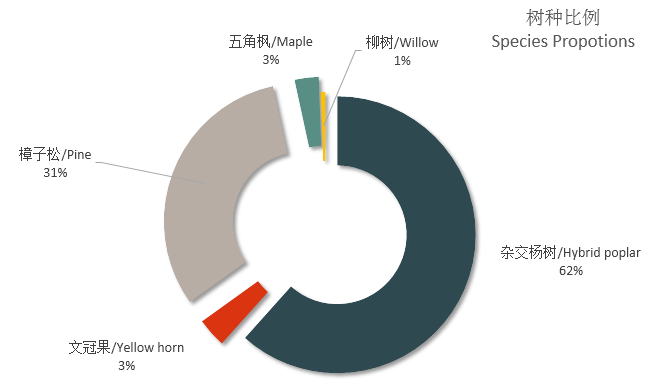 在今年9月至10月,我们对2007-2017年期间栽植的29块林地逐一进行了抽样调查。历时27天,测量样地237块,总计测量林木7145株。经过这次调查测量,2017年度全林地保存率均值为66.12%,各年份林地保存率如下图:
The 2017 investigation sampled 7,145 trees in 237 random spots on 29 forest plots and took 27 days from September to October to complete.The overall survival rate of all MTP forests is 66.12%. The graph below shows the survival rates of the planting sites that we have investigated over the last 6 years.