毛乌素沙地,中国四大沙地之一。一千多年之前这里曾草滩广大,水草丰美,风光宜人,是一片很好的牧场。此后由于不合理开垦、气候变迁、战乱等原因,这片土地像一块具有传染性的皮肤,沙化面积不断向四周扩散。不过,这里如今大部分地方再次被绿色覆盖。
Mu Us Desert, one of four China's sandlands. More than a thousand years ago, it was a vast grassland, with clear water and beautiful scenery. Due to over-reclamation, climate change, war and other reasons, this land is like a contagious skin, deserted area continuously spread around. However, most of the area here are now covered in green again.
今年8月,上海根与芽招募了这样一支志愿者队伍从各地来到这片沙地的西南角,宁夏灵武白芨滩国家级自然保护区,给往年我们种下的灌木林地做生态调查。林地生态调查的目的是,通过抽样统计样本点植被的种类、数量、覆盖度等数据跟踪林地的生态条件变化情况。其中,林地植被覆盖的变化是反映旱地生态系统健康状况的关键指标。
In August of this year, Shanghai Roots & Shoots recruited a volunteer team going to the southwest corner of this sandland, Ningxia Baijitan National Nature Reserve, to conduct ecological investigations in the shrub lands we planted previous year. The purpose of it is to track the changes in the ecological conditions of the lands through sampling the statistics of species, quantity and coverage of the sample sites. Particularly, changes in coverage is a key indicator reflecting the health status of dryland ecosystems.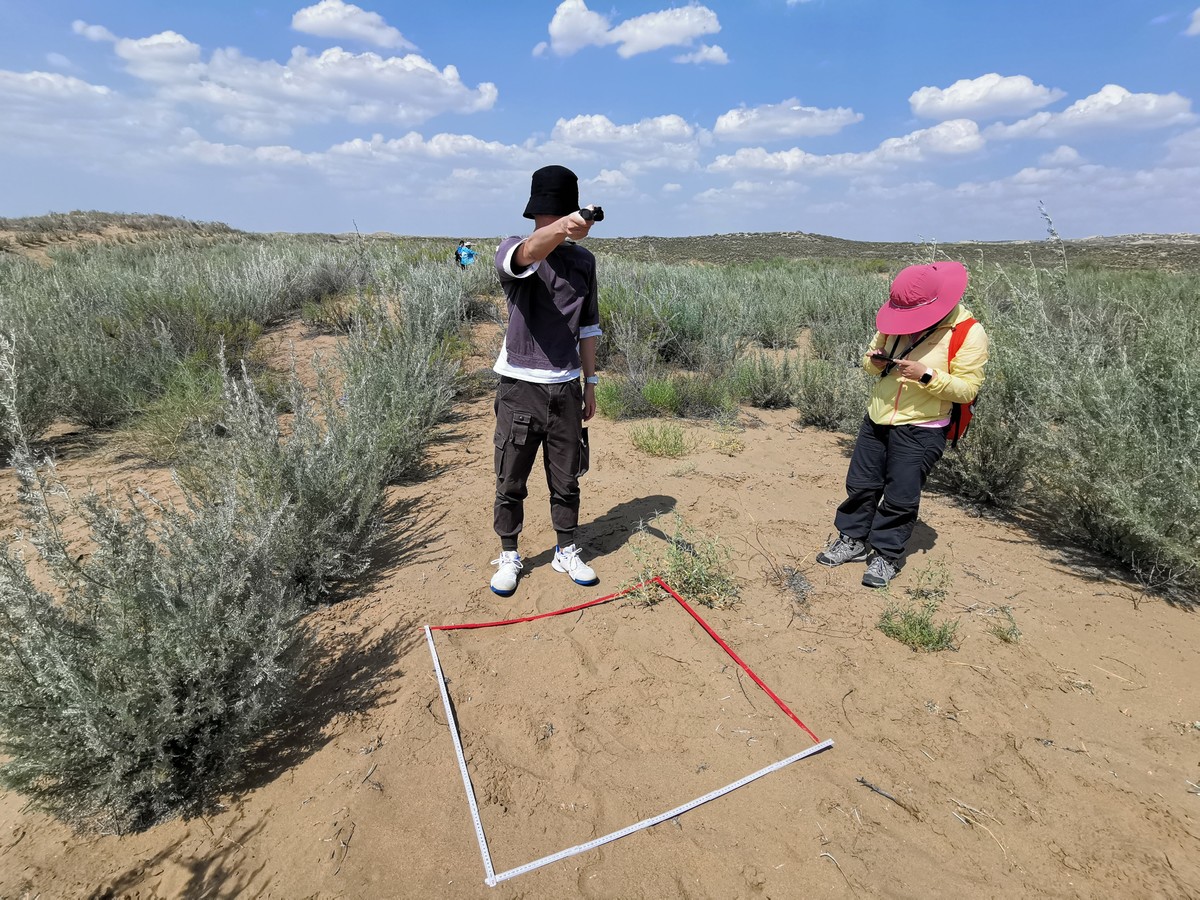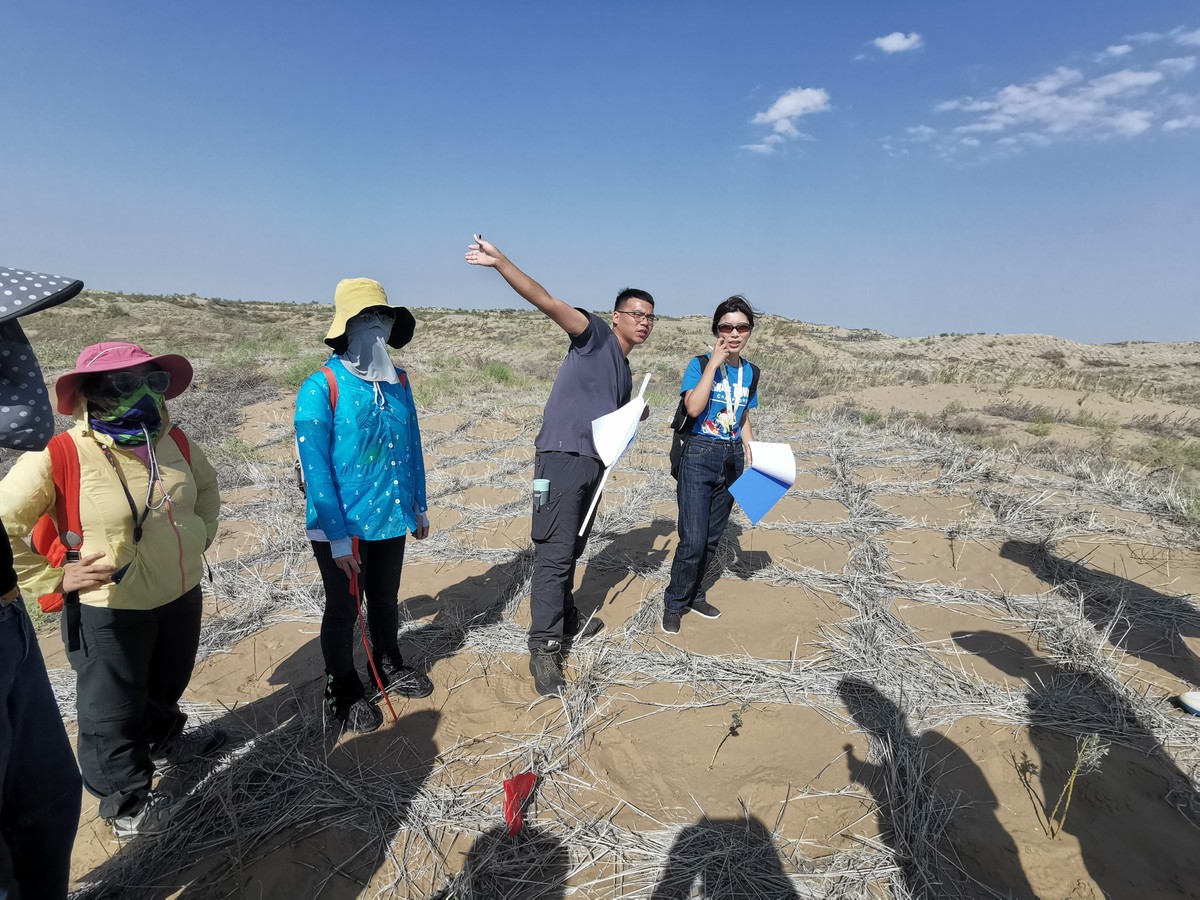 本次生态调查在2015年、2017年和2018年三片灌木林地共调查了26个样方,总计3000平米。在所有调查样方中,我们共发现27个种、16592棵植物。此外,我们对这三块林地以及沙漠空白地区各抽取了10张航拍照片,进行覆盖度分析。结果如下:
Within a week, we had investigated 26 sample sites in three shrub lands (Year 2015, 2017 and 2018), 3,000 square meters in total. And we found 27 species and 16,592 plants in total. In addition, we took 10 aerial photographs of each of the three plots and one nature desert area for comparison for coverage analysis. And here is the result: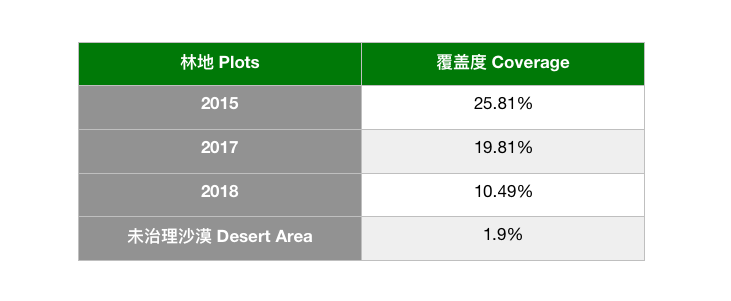 可以明显看出,覆盖度随着灌木生长年份增加而提高,三片林地的植被覆盖度和未治理沙漠形成鲜明对比。这三年的林地覆盖度均已超过10%,预示这三片沙地已基本由流动沙丘向半固定沙丘转变。
We can obviously see that the coverage increases as shrubs grow by years, and the coverage in three plots contrasts sharply with the nature desert. Besides, all three plots' coverage exceed 10%, which indicates that the three plots have almost changed from mobile dune to semi-fixed dune.
黑甲虫是我们本次做生态调查时沙地中的常客,它们的体型和人类相比也许微不足道。但是试想,如果我们被丢在一片荒漠中,我们又能存活几天呢?每当夜幕降临的时候,沙漠中的温度骤降,大批的甲虫都会来到沙丘上,它们都将头插进沙里,然后背朝着雾来的方向。由于此时,已经是日落以后的几个小时了,空气中的水蒸气,能够在温度比较低的物体表面凝结成水珠,这样雾气凝结成的水珠,就在甲虫背上形成了。而此时,甲虫的头正朝下趴着,凝结而成的水自然就可以顺着它背上的沟槽流到嘴里去了。这些黑甲虫给我们展示了自然的奇妙,再小的生命也有令人惊叹的智慧和生命力。大自然是一间天然的教室,自然里的每一个生物都可以是我们的老师。这次生态调查自然给我们上了一课,主题是:尊重万物。
Black beetles are frequent visitors during our investigation, and their size may be negligible comparing with our human beings. However, imagine we are left in a desert alone, how many days can we survive? When night falls, the temperature in the desert drops dramatically, and a large number of beetles will come to the sand dunes. They all insert their heads into the sand and then turn their backs in the direction of the fog. Since it is already a few hours after sunset, the water vapor in the air can condense into water droplets on the surface of the object with relatively low temperature, so that the water drops will be formed on the back of the beetles. At this time, the beetle's head is squatting downwards, and the condensed water naturally flows into the mouth along the groove on its back. These black beetles show us how wonderful the nature is, even a tiny creature has amazing wisdom and vitality. Nature is a natural classroom, every creature can be our teacher. This ecological journey taught us a lesson, the theme is: All creatures shall be respected.