5月24日下午,在碧绿葱郁的上海市第八中学举办了"绿动地球"植树达人篮球沙龙,来自史赛克、环旭电子、年利达、福陆·西子湾四支企业志愿者和个人志愿者组成了4支参赛队伍。
比赛分为两个部分,趣味横生的热身赛和精彩纷呈的正赛。各队选派了精英队员上场,参赛队员们个个摩拳擦掌、跃跃欲试,一扫久坐办公室的疲劳感,纷纷积极地投入比赛。
积分制热身赛考验了球员们的团队配合,正赛更凸显了全队娴熟的技术。场上球员们拿出了自己的真正实力,斗志昂扬。环旭电子赢得了最终的胜利,获得本次比赛的冠军。
On May. 24th, the Volunteer Basketball Saloon was held on the green field of Shanghai No.8 Senior High School. Volunteers from Stryker, Universal Scientific Industrial, Linklaters and Flour together made four teams with other individual volunteers to compete for the first prize.
The competition had two parts, the fun warm-up match and the exciting tournament. The warm-up matches included Basketball Passing Relay, Basketball Back to Back, Basketball steeplechase and etc. The players all showed enthusiasm on the fields, while the audience seemed to be more excited than the players; they all cheered for the players.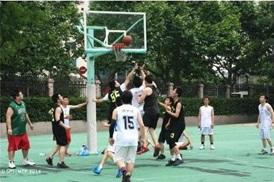 为了感谢企业的积极参与,根与芽青年活动中心为每一位参赛者捐赠一棵树苗,而冠军队伍更是每人获捐了五棵树。在活动现场,根与芽也为每一位参与者准备了薄荷苗,让每一个人都可以带着绿色回家。
精彩的比赛虽然短暂,但各队的运动员们良好的精神风貌,精湛的球艺,团结的斗志,顽强的意志却给在场的观众留下了深刻的印象。植树季虽然过去了,但植树和环保的精神永远不会落伍,抛开电视机,和篮球的亲密接触也是植树达人的低碳生活选择。
最后,本次沙龙特别感谢市八中学的大力支持、根与芽赞助商的热情响应以及智囊团的辛勤筹办,取得了圆满成功。感谢以下企业志愿者的积极参与,为内蒙古林地多筹集到了102棵树:
史赛克(北京)医疗器械有限公司上海分公司
英国年利达律师事务所上海办事处
福陆(中国)工程建设有限公司
环旭电子股份有限公司
After the warm-up matches, the tournament began. Each team sent their best players to the game. Everyone was gearing up for the real game; these volunteers who are sitting at the desks all day now became some real athletes. The four teams had their own characteristics. Team Stryker and Linklaters became team Black and White. Team members from Flour came prepared, with many skillful teammates, they attack furiously. Teams Universal Scientific Industrial's family and friends waved the flags to cheer for their team. The first round of the tournament was indeed exciting, yet we were all looking forward to the final competition!
The warm-up matches tested the teamwork between each player, while the tournament showed the extraordinary skills of each team. Every player on the field fought until the very last minute. After the No.4 player from Team Flour scored 2 points, Universal Scientific Industrial grabbed an opportunity, scored a dramatic 3-point shot which made Universal Scientific Industrial the champion of the tournament.
After the match, all the audience voted player No.7 Chen Gong from Linklaters for the MVP of this Basketball Saloon. All the participants also received some special "Green Gifts" from Shanghai Roots and Shoots. To thank for the support from sponsors of Million Tree Project, R&S also donated one tree for each participants and five trees for the winning team. At the end, Shanghai R&S also prepared a spearmint seedling for everyone, so that everyone can bring a small plant back home.
The matches were short, but the impressions that all teams left with us was long-lasting. The same is with the spirit of environment protection. Though the season for tree planting for this year has already past, yet the spirit and belief of protecting our environment will never be out-dated.