It was still late winter in Tongliao, Inner Mongolia in early April. Grasses were underneath the ground waiting for the call of spring. Strong winds blew through villages with dusts and sands. Apparently not tourist season yet. However, volunteers of Million Tree Project had gathered from different directions and planted 2500+ poplar saplings and 8000+ caragana seedlings together. With most sincere wishes, they hope these baby trees can bring future green to the degraded lands.
四月的内蒙古通辽才刚刚从冬季的沉睡中苏醒,小草尚在地底下酝酿萌发的动力,朔风依然裹挟沙尘席卷村镇。参加百万植树计划2015年植树之行的志愿者们已经从四面八方汇聚而来,在春暖花开前把2500多棵杨树苗和8000多株小叶锦鸡儿种下,用自己最真诚的期许浇灌这些幼小的苗木,盼望未来它们能为这片退化的土地带来蓬勃的生机。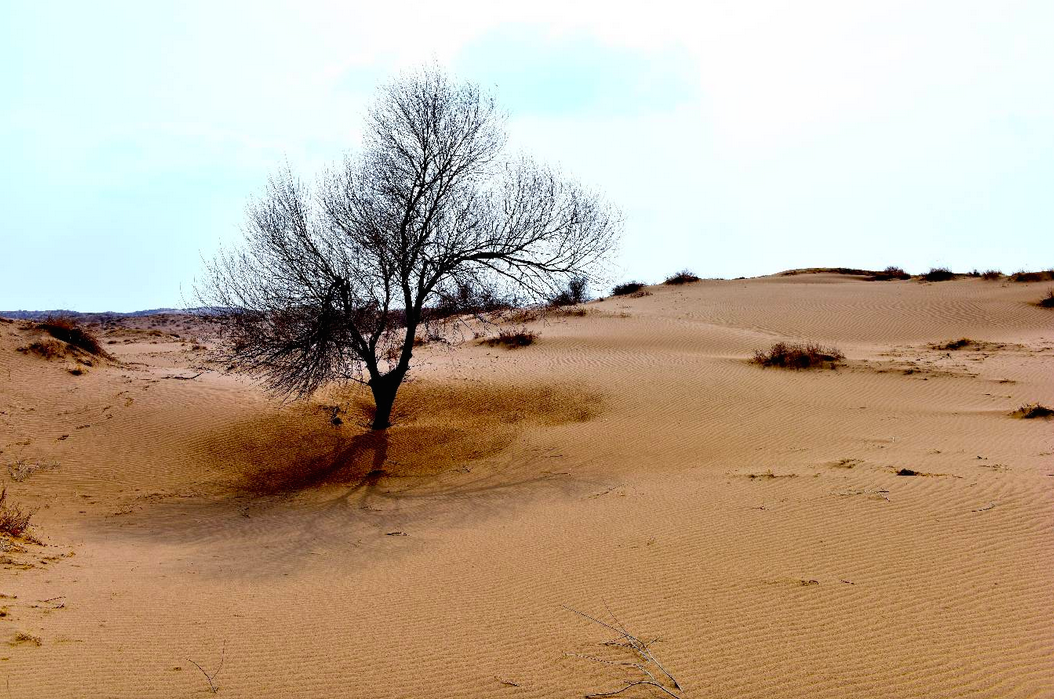 From April 3 to April 20, there are 228 volunteers from 23 sponsor companies and 7 schools joined the planting trips. Among them, there are dedicated company volunteer who have been there to plant nine times in past six years, and first-time visitors from warm and flourishing southern Hong Kong and Taiwan who's not so used to the dry sandy environment in north China. This planting troop is comprised with students, teachers and corporate volunteers form a dozen different countries. During their four-days trip, these volunteers sweat heavily to plant trees, carefully pruned the 2010 and 2011 forests, learned knowledge of desertification, soil degradation and ecological restoration through inter-active experiments and demonstration, and understand how the Million Tree Project is implementing in local community. One of the sponsoring company also donated their old laptops and nearly 1000 books to local schools to offer the kids more access to knowledge.
今年的植树活动从4月3日开始到4月20日结束,来自23家赞助公司及7所学校的228名代表先后参与了活动,其中既有参与植树多达9次的企业代表,也有首次踏足北方土地不适应干燥风沙天气的香港台湾同胞,还有来自10多个不同国家的学生、老师和企业代表。在4天的活动里,这些志愿者不仅挥洒汗水努力种树,还认真为2010年和2011年的杨树林地修枝,通过生动的实验和演示,学习关于荒漠化、土壤退化以及生态恢复的知识,理解植树对于当地的意义所在,并亲自体验到在荒漠化环境中生活的不易之处。其中一家赞助公司还充分利用更新后淘汰下来的电脑为当地学校捐赠了电脑教室,并为学生送去了近1000本图书,建立了爱心图书室,帮助孩子们有更好的资源和工具来学习知识。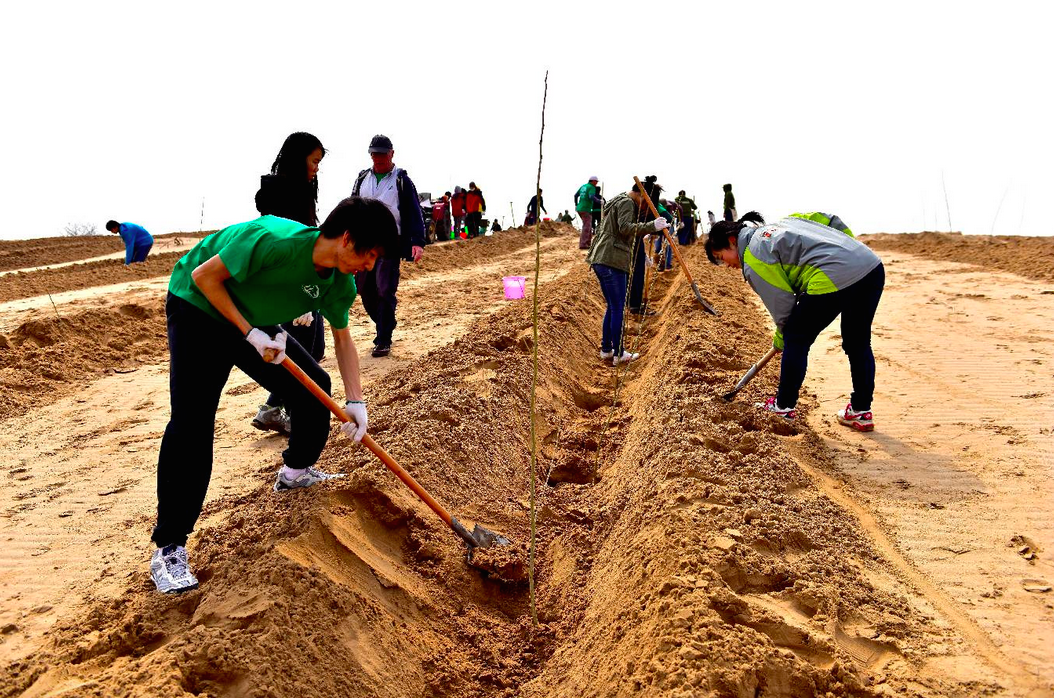 There are ups and downs in the trips. Flight delay for over 6 hours, strong wind, heavy snow, all these failed to set these volunteers back from planting. Even the trip leaders said "They just cannot stop planting!" At the planting scene, there's no difference in gender, nationality, grade and level, every one dedicated their 100% effort to the work. Many of them shared their feelings lively on WeChat and Weibo with their friends and got a lot of positive feedbacks. Though the trip is short, but the friendship of 'planting buddies' will last. Maybe each one have their own reason of joining the tree planting trip. But all of the share the same wish: Keep planting more trees! Some of them even committed to re-visit after years to see the baby tree growing into big forests.
活动中不免有许多坎坷,航班延误、大风、下雪,这些都阻挡不了大家的热情,连根与芽领队们都发出了"根本停不下来"的感慨。在现场,没有年龄国籍之分,没有行业职位之别,每个人都付出了十足的心意和行动,不少人还通过微信、微博等渠道,和朋友们实时分享了自己的感受。虽然时间短暂,在风沙中建立的"战友"情谊却将长久地延续下去。也许每个人参加活动的理由各不相同,可所有人都有这样的愿望:继续下去,种更多的树!也许过几年还能再来看看当年的的小树苗是如何茁壮成长。

"The more you devote, the stronger you feel. I won't appreciate this much for what I have now if not being able to see the bareness there." "Everyone take a small step, the world is closer to a more beautiful future. " These are the testimonies from trip volunteers. These words strengthen our Roots & Shoots belief again. All of us are here are for good. Small actions together can make big differences.
Let's plant more trees!
正如志愿者们感言中所说,"投入有多少,感受就有多深!没有亲历荒凉,就不会体会现在拥有的有多美好","每个人只要多做一点,这个世界就离美好更近一步。"我们携手共聚于此,Here for Good, 相信小行动能带来大改变。
世界那么大,让我们一起种更多的树!